What's a Mother's Love Got to Do With It?
Erika Prelow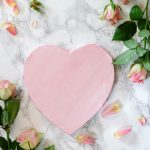 Roberts ©April 21, 2021
I saw on YouTube a new Mom with her newborn son, 5 days old. The Mom was enamored with having this precious life in her arms. She was still amazed at the miracle of having what she was carrying in her, now be in her arms. The brand new tiny baby was so peaceful and delicate with his face pressed up against his Mom's for the famous photo of Mom and Newborn snuggling for the first time.
It brought back a flood of memories, from 15 – 26 years ago, that still warm my heart today. I wanted to do everything right. I atehealthy during pregnancies, read books on birthing, prayed over them, talked to them about our future, read books to them, and played classical music while they were in my womb to increase their IQ. I scrubbed the walls, put up pretty border, set up the nursery, washed all the baby things in Dreft, and waited impatiently with great anticipation to see up close, and hold in my arms, this little person I had been feeling moving inside of me. I nursed all of my babies on my breasts for months, nothing but the best for them. By baby number 4, I was a champion swaddler, and professional nursing Mom, who could feed incognito wherever necessary. I was brave enough to have baby number 4 through natural childbirth – no drugs – which was the best experience of all the childbirths.
You get the picture. I did all the right things. I was responsible, loving, nurturing, consumed with providing the best for them. They became my numero uno priority. Doing everything I could to give them everything they needed was my number one goal in life. They were so precious. I took my responsibility seriously, to dedicate them to God and rear them up to know Him and follow His ways and to develop their gifts and talents so they could make a living for themselves and function in their God-intended purpose.
I was 23 when I started this journey of motherhood. Fast forward 27 years. I'm 50 now. A whole lotta lot has happened since then. My dreams of being a perfect Mother have been doused with gasoline and set on fire.
Once upon a time, I had so much excited energy. There was so much to look forward to. Now, I just want to survive this ride. Today, my desire is a little different.  I want to step off this roller coaster and still have a modicum of health, strength, a good mind and a little money. Success used to be achieving perfection. In this brief season, success is surviving. However, I discovered that I must learn how to thrive in this strenuous environment called parenting beyond 50 – my knees hurt; my heart aches, my waist is stretching; my nerves are shorter than they used to be; my money is disappearing; and, my hair is graying – right in the front where it is impossible to hide it.
Can I just be honest? This is a lot harder than it seemed like it would be when I first started out! Who would know that these children would steal my heart from the womb? That my heart would go with them wherever they went, and go through whatever they went through in life. That tears of pride and joy would flow over the years at every milestone in their lives – for which I have pictures. Who would know that my heart would be broken in a tri-zillion pieces at least a couple of times? Who would know all the prayers I would pray, all the restless nights I waited up, listened for the car, for a text, for a call? Who could count the number of ER visits, doctor visits, midnight runs to the pharmacy or to Walmart for purple posters with green dots, or the yearly search for teal, 4-pronged, plastic folders with pockets, and 4.5 inch green and tan binders with pockets and a Disney character, a horse or a puppy on the front. Who could count all the birthdays, parties, pictures, surprises, gifts, vacations, school registrations, awards programs, field trips, college tours, tuition payments, cell phone bills, insurance, etc.,? The truth is we don't count. Love has no limits, no calculator, no meter, no calendar, no timetable. Love doesn't keep a tally.
At times, I lacked patience, discernment, attentiveness. I missed it a few times in big and small ways. My prayer is that my children will always know that in the depth of my heart, I only have love for them, and I pray that they always feel surrounded by love. My love never ends.
Aside from my own mis-steps, I also am humbled by my late revelation that my parents endured the same things I have experienced. It is a wonder that our parents still speak to us. Not only do they still talk to us, but they still pray for us, worry about us, consider us, guide us, and want us to visit and call them. They carry us in their hearts.
Is there any corner of the Earth that you wouldn't go to rescue your child, any mountain, any remote village, any jungle, any dry place, any courthouse, any street? Nope, not one. In my dismay and exasperation, I tried to dismiss my love a few times. I said to myself, "You know what, I'm just gon let you have your way. Go ahead and knock yourself out doing what you wanna do, with yo fool self." But, it don't work. (I Corinthians 13:4-8).
Why, Lord?  Why is the gift so precious, so dear, that you gave to us, that our hearts can hardly contain all the love we have for each one of our children, even when we are fed up with them? Our love can't be bought. Can't be bottled. Can't be sold. Can't be contained. Can't stay mad. It overflows from the never-ending depths of our soul. There is no height for it, no depth for it. Where could your children go that you would not go to find them, reach them, save them from harm? Who wouldn't you fight for your children? Ain't nobody too big for a beat-down from a Mama, whether in a physical or a spiritual fight. It's on and poppin' if anybody tries to hurt one of my babies. I will knock down doors, sneak in buildings, hide, lie, whatever it takes. (I've done it, for real). They are worth every scratch, every limp, every stretch mark. Now, ask yourself, "What can separate us from the love of God?" (Romans 8:38-39).
I pray that my children know that I believe they are worth fighting for, and that I will fight, with every breath in my body, and every wailing prayer I utter. I'll never give up on them. I have bruises on my heart, but I'm still standing. I am healing, and still in the fight. Learning to fight well. Suited up with my armor. Until victory is won.
Jesus had nail prints in his hands to show His love for us. His Father sacrificed him for all of us. That's love. (Isaiah 53:5-12).
But he was pierced because of our rebellion, crushed because of our iniquities; punishment for our peace was on him, and we are healed by his wounds.
He was oppressed and afflicted, yet he did not open his mouth.
Yet the Lord was pleased to crush him severely.
After his anguish, he will see light and be satisfied.
Therefore, I will give him the many as spoil, because he willingly submitted to death, and was counted among the rebels; yet he bore the sin of many and interceded for the rebels*.
(* rebels = you and me)
God gave us children to love. They show us how we behave as children of God. Yet, He loves us. We are to introduce our children to God and teach them to reverence Him. We pray that they will experience His utmost in love, promises, provision and protection. God's plan will continue from generation to generation.
Human parents don't always love well, and that's unfortunate, and human. But, God IS love and His love is perfect. God loves you because He loves you, because He loves you, because He loves you. His love for you is reckless, sacrificial, unending. His love endures forever. His love never fails. Neither does His Word.
Study Scriptures: John 3:16, Romans 5:8, Romans 8:39, I Corinthians 13:4-7, I John 4:9, I John 4:16, I Corinthians 13:13, Psalm 136:1 and 4-9, I John 3:1a.
Favorite Song Today: https://www.youtube.com/watch?v=ZPHXL8Poku0
Favorite Prayer Time/Meditation Music: https://www.youtube.com/watch?v=WUJAxpL8AMk
Calm & Relaxation Music: https://www.youtube.com/watch?v=IlNuFhcpk10