‌Women wear many hats and carry the weight of caring for others with exceptional dedication. However, we usually do not lavish exceptional care or grace on ourselves. It is time to take a break from the demands of our busy lives. It is time to reconnect with God, with self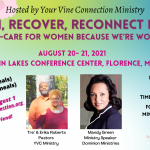 and with others. Let's do this for ourselves … by ourselves. You are worth it!
Register now! Earlybird registration ends August 1. After that, there will be a $15 late fee for registration. General registration ends August 8.
Dates:   August 20 – 21, 2021
Address:   Twin Lakes Conference Center, 155 Milner Road, Florence, MS 39073
Cost:
$99 (lodging, 3 meals)
$65 (2-day pass, 3 meals, no lodging)
$15 "Inhale Exhale" Retreat T-Shirt (Pre-order when you register or pay on Paypal @yvcministry). See front design below.
Registration:
1. Submit online registration form at https://forms.gle/A9gM4vyqXAXMGKgU9
2. Pay on this website at https://www.yourvineconnection.org/online-giving/ (see form at bottom of page) or
Paypal @yvcministry
or
Pay on Eventbrite at https://yvcrefreshretreat2021.eventbrite.com
Schedule:
Friday, August 20:  
1pm – 3:30pm. Check-in, Time Alone, Free Time (walk, hike, canoe, fish, sit by the lakes, journal in a quiet place)
4pm Welcome
6pm Denim & White Dinner
7:15pm Ministry (Mandy Green, Dominion Ministries, Baton Rouge, LA)
Saturday, August 21:  
7am Prayer Walk, Time Alone
8:15am Breakfast
9:15am – 4:30pm Welcome, Ministry, Fun Fitness, Lunch, Speakers, Closing
5pm – 6pm Check-out
You Should Come If …
You are a woman on a mission, and you need to refuel.
You are a woman of purpose, and you need clarity.
You are a woman who has been isolated too long, and you need to reconnect.
You are exhausted and overwhelmed, and you need to recover.
You are talented, creative, resourceful and tired, and you need to be refreshed.
You are dealing with issues too big for you, and you need to go to battle with other warriors.
You will be strengthened, encouraged and refreshed by: the Word of God; the peace, power and presence of His Holy Spirit; fellowship, food and fun with other women; and, time alone with God.
Self-care is important to maintaining a healthy relationship with ourselves. It means taking care of our mind, body and spirit for our own well-being mentally, physically and spiritually.
Attire: Casual. Denim and White Dinner on Friday (optional attire). Comfortable shoes for walking.
Parking: Free
Note: You must be a woman 18 years or older to attend.  No childcare provided. No children allowed.
Important Notice: COVID-19 Vaccination is encouraged but not required to participate.
Detailed information on the schedule, lodging and packing will be emailed after acceptance of registration and payment.

Hosted by:  Your Vine Connection Ministry (YVC)
Contact us: Erika Roberts at (601)460-1631 or